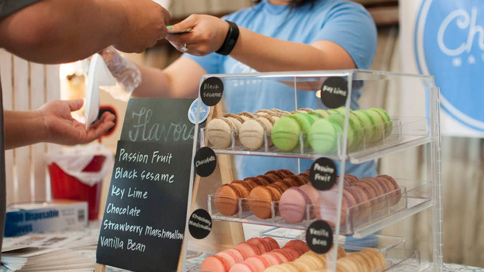 How to get local followers on instagram for your business.

Check out my top 5 tips to easily grow your local followers on Instagram.
If you have a small business, you need local Instagram followers.
It's truly how you can get local instagram users to notice your business and get them started into your sales funnel or marketing goals.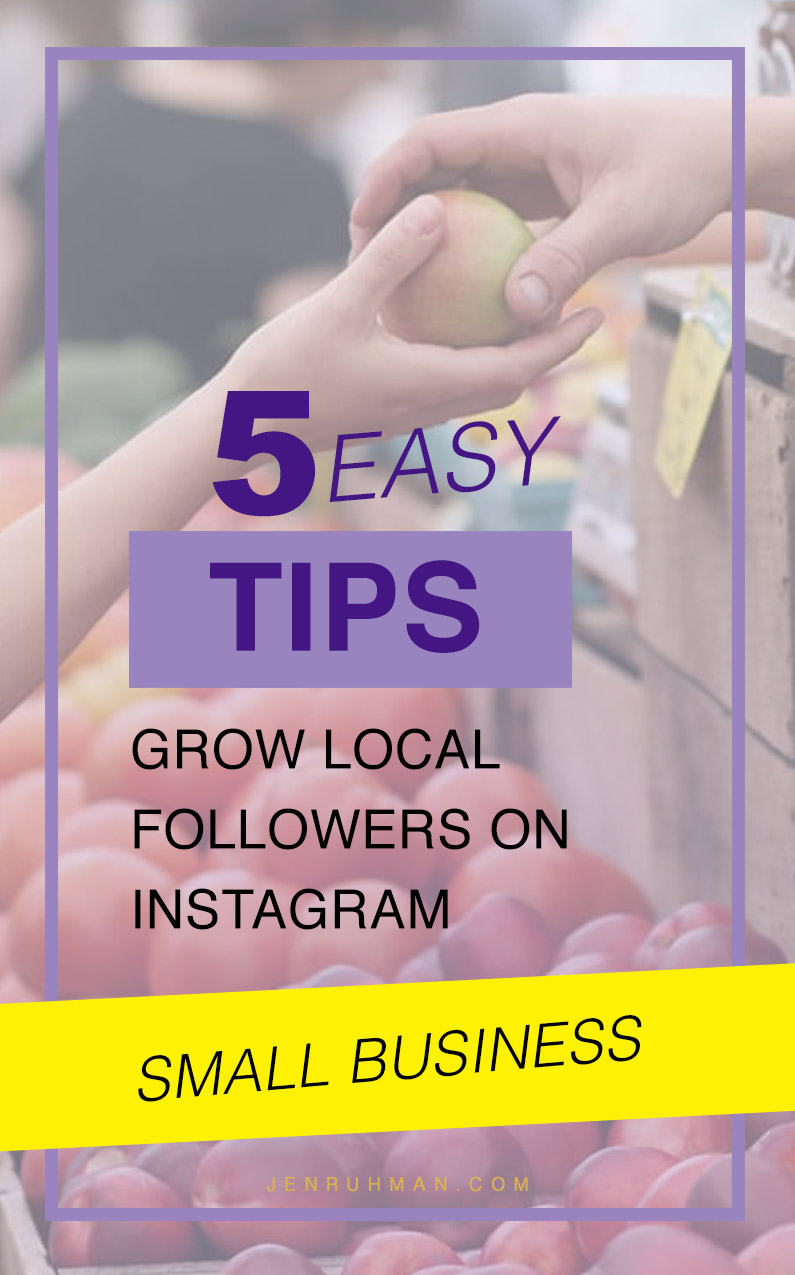 Today I'm sharing a few powerful ways how you can attract, interact, and gain local instagram followers.
This method is not focused on taking better instagram photos… Pshhh. This tutorial shows you how to take action!
It's quick and easy!
It gets better, 
You can get local followers for free on instagram. 
That's right. You're tapping into over 100 million instagram users… there's defiantly instagram users that are nearby your local business.
It's time to gain the benefits of instagram for your local business and get local users'  attention to notice your brand!
If you're like most small businesses you probably can't afford to hire a social media expert.

That's OK. If you have ten minutes to spare per day for instagram, I'll show you how you can get local instagram followers that will help boost your sales.
Having local instagram followers is beneficial for any small business
It helps you gain trust with your customers or potential customers
Spreads word of mouth
Gets foot traffic to your business
Creates a sense of community and branding
If you have a small business that relies on foot traffic, you need local marketing.
Ready to get started?
Here's five tips how to get local followers on Instagram
NEW AWESOME Bonus tip: Follow the business' next door's instagram followers!
For example. The BBQ restaurant's instagram I manage. There is a mechanic shop next door with lots of LOCAL customers following their instagram account. We simply gave the mechanic shop a coupon to share with their customers for 10% off their entire meal. (these customers usually wait around while their car gets fixed)
Let's give them an incentive to get them into our restaurant! Guess what happened? They posted the coupon on their instagram account. Now all their followers see the deal. And I swoop in and follow all the people that liked the post AND I followed all the mechanic shop's followers. We now have an extra 100 followers. Skimming through the users, they are all based in San Diego. Awesome!
RELATED POST  How to Get Your Business Started on Instagram
1. Leverage Local Hashtags
People love using their local hashtags such as their city or exact location in their instagram posts.
Check out an example, I typed in "#SanDiego" (my city btw I'm using my laptop)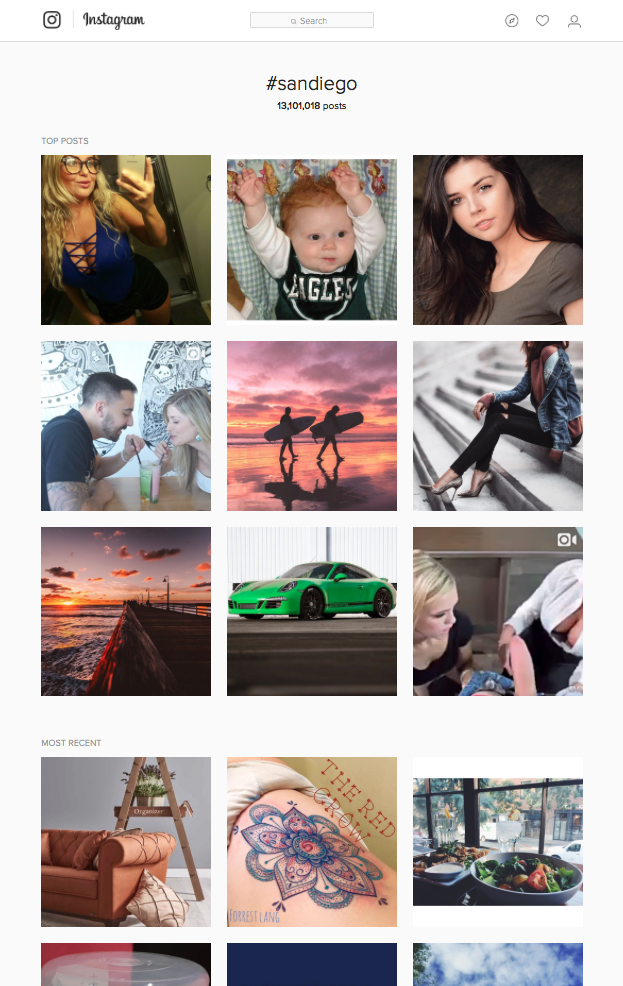 See all the local potential?! Over 13 million posts.
Check out the most recent Instagram posts for this hashtag and interact.
Like their photo AND leave a comment.
2. Interact with the most recent local posts
Keep your comments professional and start a conversation, perhaps ask a question. You can even just leave an emoji.
Why should you interact with the most recent Instagram posts?
I recommend that you interact with the most recent photos because these users are most likely still using instagram or have their phone in their hand. They're awaiting to see how many likes they will receive or how many comments their photo will earn. (millennials… right?)
You have a better chance interacting with them, making an impression.
You want to interact on photos that have no likes or comments, be the first!
For example: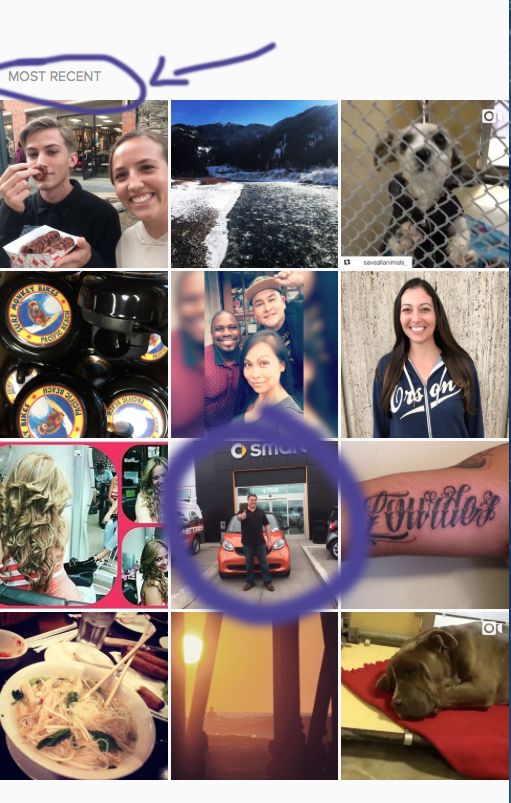 Let's click on this photo: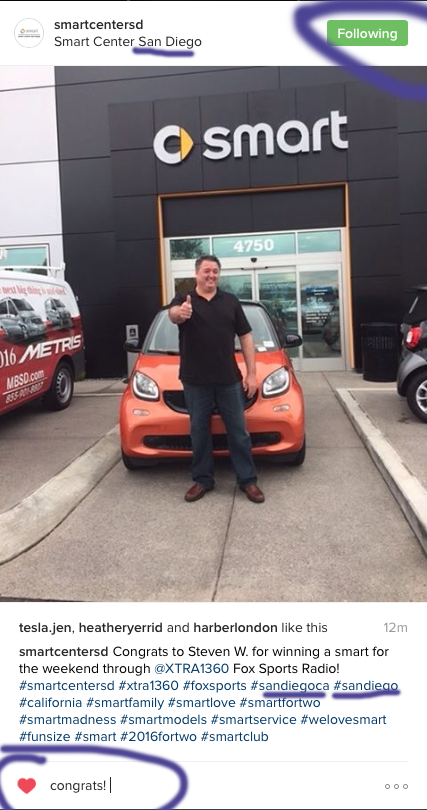 Now let's follow, like, and leave a comment. Notice other hashtags we can use too? #SanDiegoCA
3. Leave questions as comments
Now, you might want to leave a more creative comment than "congrats" Notice the address above the man's head? Point that out, say 4750? You're practically my neighbor. We're an IT company in San Diego. Congrats BTW! :)"
The best types of comments to leave on Instagram are questions!
You want to "stir the pot" "create buzz".
Your goal in this process is to get the Instagram user to click on your Instagram username to see who you are.
Time for a fun example….
Let's peek into an Instagram user's mind:
The local instagram user's mind might work like this:
Local Instagram user: "Hey….. who's liking and leaving me comments on my account?"
(sees five new likes and one new comment from you)
RELATED POST  Top 10 Snapchat Facts Marketers Need to Know
This raises curiosity who you are. 
They will most likely click on your username  to check out your profile and photos before commenting back.
The point is that you succeeded "getting into their head"
They now know there's an IT company in San Diego nearby that follows them. (you're an IT company in this example)
Local Instagram user: "I just looked at their profile, they seem ok… I'll write back."
Local Instagram user: "I'm gonna return the favor and like some of their photos now because they liked a bunch of mine…"
Fast forward months from now
4. Interact with your Instagram news feed
Now that you're following a good amount of instagram users in your area, be sure to like their photos!
It's important to continue to like their photos and comment. Eventually the local instagram users you follow will follow you back and interact with you.
It does take time and you need to be persistent. However, don't act desperate or be pushy.
5. Leverage the Geo-locate feature:
Let's leverage the geo-locate feature in this Instagram post. The user here allowed Instagram to use his location and include it below his instagram username as circled in red. (example pictured below)
If this is a nearby business and it has your target market of customers, in this case it's a car dealership. They attract people with money in the market to purchase a new car. 🙂
This place is already receiving foot traffic and they're your neighbor.
Click on their location
Look for users that recently took photos here
Follow them! (in this example it's mostly the car dealership that populates the "most recent") However, you'll find some customer posts.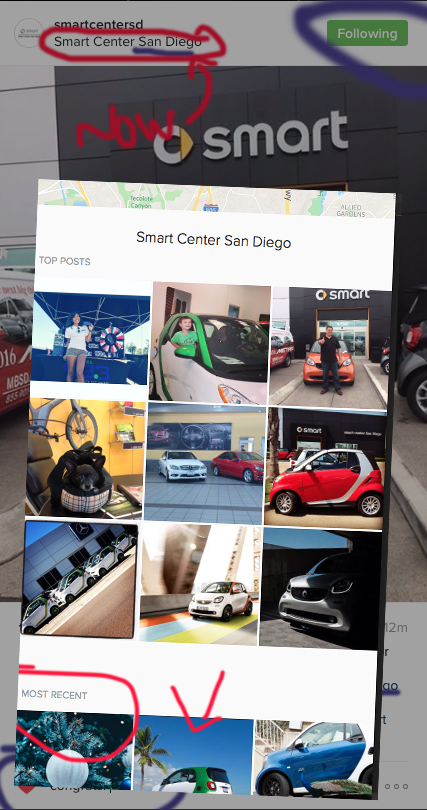 6. Follow your local competition's followers!
This is HUGE! This is quick and shameless tip. If there's a local business that's a competitor, check out their inastagram account.
Study what they're posting, see what's working for them. It doesn't hurt to follow their ideas, you can perhaps think of even better ideas, brainstorm with your employees.
If your competitors have followers, they might be more likely to follow you back since they already like the same type of business.
Bonus: How to get local business to follow you on Instagram
Depending on your product or business, you may want to only attract local business owners or local businesses on Instagram.
Sometimes, that's more of a bigger client and can be a bigger sale.
For example, it you're an IT company, you most likely want small businesses nearby to follow you and hire you for your local IT services. You'll want to simply search for targeted keywords. Use the city you're located and add "businessowner" for example, #SanDiegoBusinessOwner.
Bingo, do a quick search in Instagram for "#SanDiegoBusinessOwner" and 62 posts show: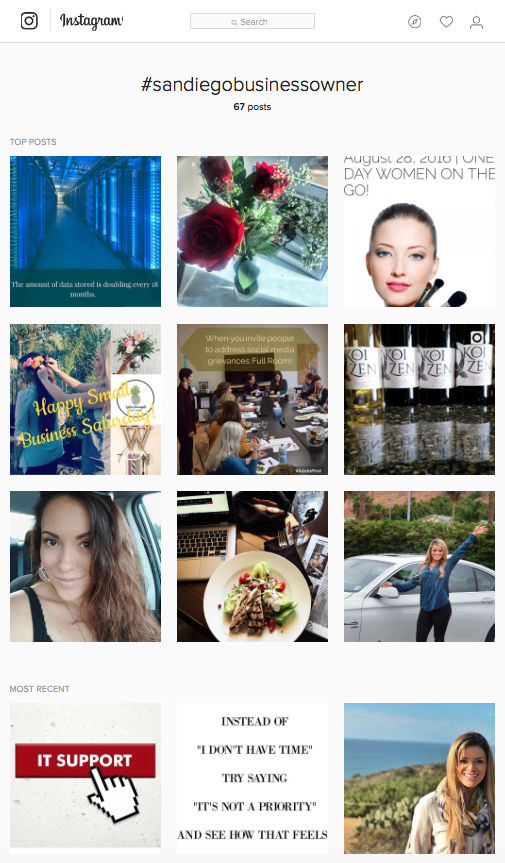 You should follow and interact with the most recent posts. Leave comments and get a conversation started. Connect! Network!
You can also do a google search for any specific businesses nearby.
For example, if you wanted to connect with only dentists in San Diego, do a google search "dentists San Diego" Click on their links and website to find their instagram account.
Thanks for reading "How to Get Local Followers on Instagram."
Do you have any tips how to get local followers on instagram?
Please share your tips in the comments below.
Still confused about Instagram?
I have lots more Instagram tips for you:
Top Benefits of Using Instagram for Business
10 Instagram Facts Marketers Need to Know
How to get your business started on Instagram
How to Optimize your Instagram for local business
10 Creative ways your business can utilize Instagram
Get more likes on your Instagram photos using this free app