Here's my guide for listing higher in Yelp search rankings.
Updated: 5-11-2020
If you are new to Yelp and need to rank your business high in Yelp, this guide will help you. I also wrote a guide below to increase your Yelp search rankings if they dropped and you need to rank higher.
New to Yelp? Follow these instructions:
How do I rank higher in Yelp?
STEP 1: Log into your Yelp business owner account here: https://biz.yelp.com
STEP 2: Make a list of keywords you want to rank for in Yelp
STEP 3: Write these keywords into your Specialties Section
STEP 4: Ask for Yelp Reviews Focused on a Specific Keyword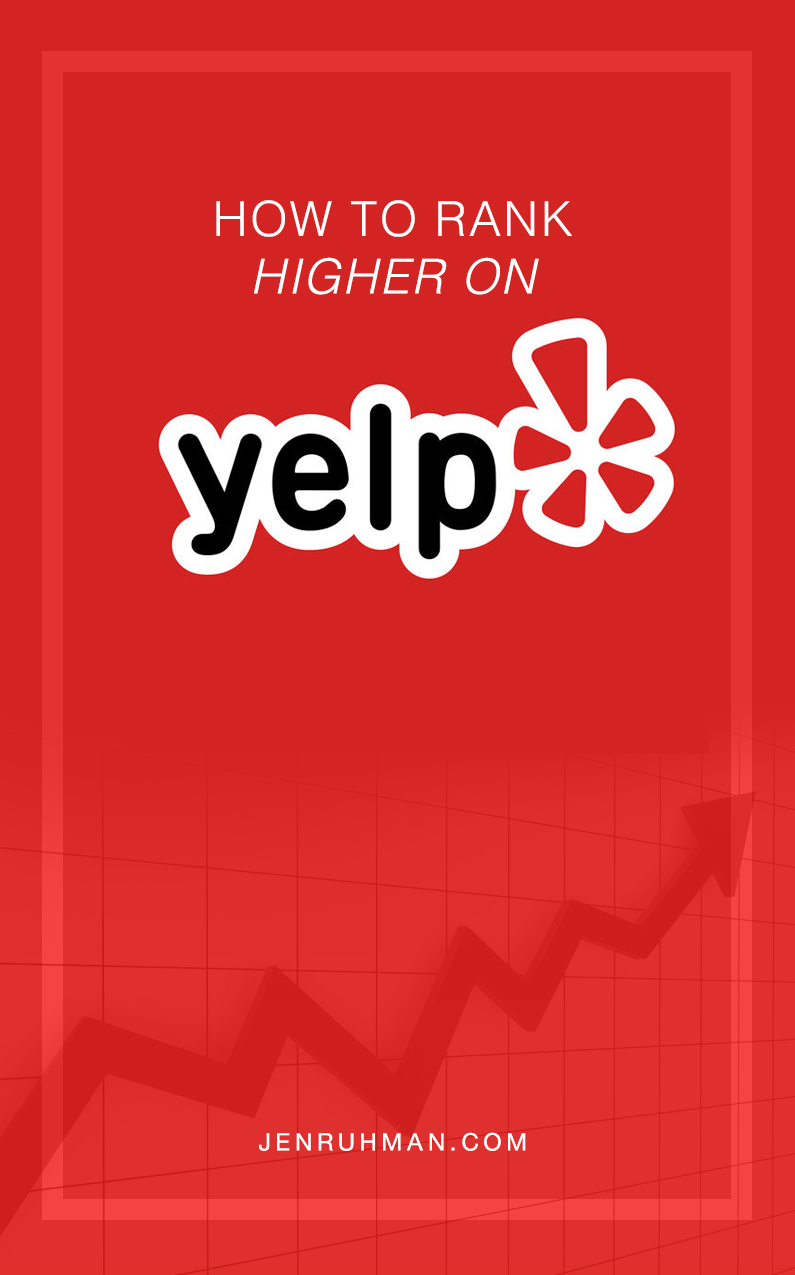 How to rank higher on Yelp!
Business owners, you're on Yelp whether you like it or not. You might as well optimize your Yelp business page and leverage the power of Yelp. I'm going to share with you how I organically optimized a client's Yelp business page. (case study)
Best of all, I was able to improve the Yelp page rank for free. That's right, without buying Yelp ads or any of the add on features. Woo hoo! Not only did I save my client money. With these quick Yelp optimizations, he's now ranking high organically next to the top paid ads. What?! Yes! And you can too!
Related: How to Rank Higher in Google Maps
Here's my free guide How to Optimize your Yelp Business Page Rank. If you want to have your business ranking higher on yelp for free, keep reading. This will also help maximize your ROI if you're running any Yelp ads. I promise, this will take ten minutes tops! Grab a cup of coffee or tea and let's work through this Yelp optimization together. Yay!
I assume you already claimed your Yelp business listing. So make sure you have that done before doing this tutorial.
How to Rank Higher on Yelp
STEP 1: Log into your Yelp business owner account here: https://biz.yelp.com
(This is not to be confused with your personal Yelp user account.)RELATED POST Free Plugins to Speed Up Your WordPress Website
STEP 2: Make a list of keywords you want to rank for in Yelp
This is where the MAGIC happens. Ideally, you want to rank for long tail keywords or very specialized services you offer exclusively. For example, my client is a Managed IT service provider in San Diego. There's so much competition for this Keyword so we want to of course still rank for it but also go after similar keywords such as "Onsite managed IT services" and also specific services in that category such as "PCI compliance", "Dell Poweredge", "Proofpoint Essentials", "Managed Firewall", "Office 365". (More info about long tail keywords mentioned as #2 in this post.)

Yelp Specialties Section Screen Shot
STEP 3: Naturally write these keywords into your Specialties Section
It's all about the Specialties section. That's where the magic happens for organic yelp page rank. Write a helpful description sprinkling your keywords throughout the paragraph(s). Try to sound like a human and not a robot lol. Do NOT just make a long list of the keywords. That can flag your account. After many tests, I learned that whatever keywords you write into the specialties section is what gets crawled for SEO. Don't bother focusing them in the "History" or "About the Owner" section.
STEP 4: You Can't Ask for Yelp Reviews – But gently encourage them…here's how
First of all, having a Yelp sign in your business or even in the front window display will help attract Yelp reviews and also encourage people to view your Yelp page to check your ratings and reviews. You can also gently encourage reviews by placing yelp logos in receipts, website footers, coupons, displaying recent reviews on your website, and more.
Your Yelp rank will also significantly improve if your Yelp reviews have the specific keyword mentioned in the review. YES! Yelp reviews also show up in Yelp search results! Keywords will show up in bold to match the keywords in the search bar.

You ideally want keywords in your customer's Yelp reviews.
If your customer says… "Jim did an awesome job helping me with computer support and gaining PCI compliance for my business…"
Those keywords can help identify to Yelp the services you're providing and recommend them in future searches.
Sometimes your customer has no idea what the technical services are called and needs to know those keywords. That's where you can also gently guide them by making sure you provide them with an email letting them know what services were provided. Email / print it to them in a bulleted list so it's obvious.
Hey (customer name), thank you so much for allowing (your company name) provide you the following services today:
Computer Support
PCI Compliance
Server Support
Add New Printer to Network for Accounting Department
We'd LOVE to assist you again soon!
Here's a 25% off coupon for your next visit!
Please be sure to check out our Yelp reviews.
RELATED POST  How to Rank Higher in Google Maps
Upon completion of a service for example, "laptop keyboard replacement" it's perfectly OK to ask your customer for a Yelp review for specifically you guessed it… "laptop keyboard repair." How to be slick about it and not look cheesy? You can print a template to hand out to your customers. A slip of paper that basically says "Hey thanks for stopping by, can you do us a favor? Check-into Yelp and write a review about your (fill in the blank) "laptop keyboard repair" It's not just about having Five Star reviews in Yelp, It's about being found in Yelp! Maximize this by having targeted keywords linking into your page just by having them in your Yelp customer reviews. Genius. POW! Whaaaaat?! To sweeten the deal, offer discounts for checking-in to the business and writing a yelp review.
Here's the Optimized Yelp Page Rank Results:
Because we have "PCI Compliance" in the Specialties section, it shows up in the Yelp search results. Pretty impressive huh? If we also gained a review focused on "PCI compliance" that could also show up under the Yelp search results.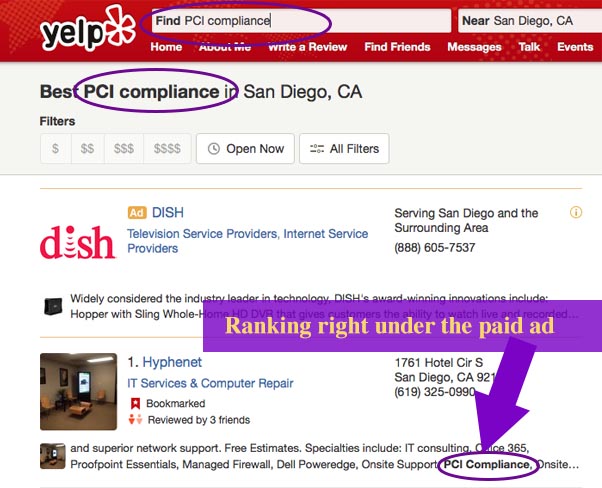 screenshot of high yelp ranking results
Here's an example of improved Yelp page rankings:
My client is now ranking on the first page of Yelp search results for "managed firewall." Currently listed at #4. Now, if we start getting more Yelp reviews with this focused keyword, we could get higher in rank. Once again, this keyword was added into the specialties section of the Yelp business owner page.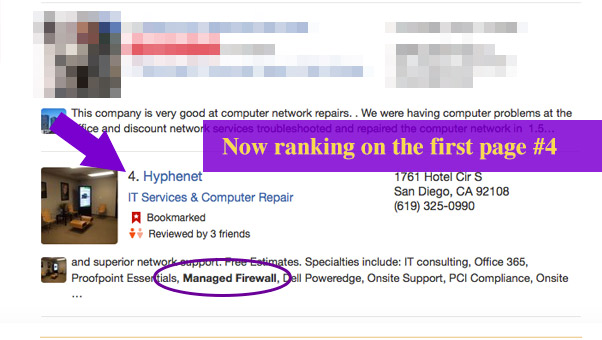 Improved Yelp rankings
Related Content: How to Find Long Tail Keywords for SEORELATED POST How to Build a Successful Blog
An example of ranking and dominating very specific keywords
Ranking as the only search result! Another HUGE advantage of adding multiple complex keywords to your Yelp business page. For example, customers call for pricing or support for the software called "Proofpoint Essentials" This is why I added it to the specialties section. And look what happened? My client is the only Managed IT Service provider in town that ranks for "Proofpoint Essentials" Pretty awesome huh?!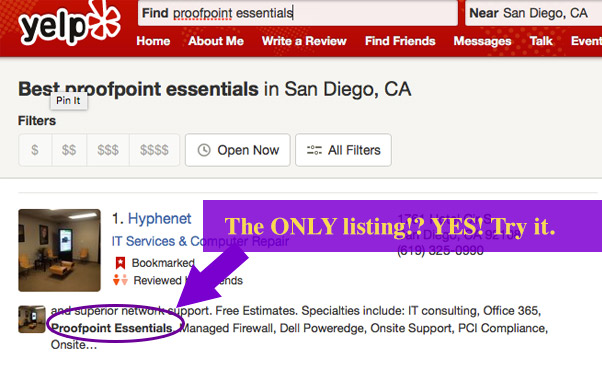 Yelp SEO magic
Have Your Yelp! Rankings Slipped?
If your Yelp listing was on page 1 and now it's on page 2 or 3 you may want to refresh your YELP search rankings.
An easy way to do this yourself is by uploading a lot of new high-quality photos and rewriting your Yelp content. I would delete old low-quality photos and keep only the good photo you added to your business. For example, has the front of your store's appearance changed? Take a new photo. New products? Take a photo!
How to Refresh your Yelp Search Rankings:
1. You need Consistent Reviews!
It's important to have Yelp reviews but it's more important to have consistent Yelp reviews.
You can have 100 Yelp reviews and have someone outrank your Yelp listing with only 30 Yelp reviews. I've seen this happen! You need to have a prominent Yelp sign in your business, coupons, email marketing, and on your website to encourage reviews.
2. You need More Photos!
Your Yelp SEO is a lot like website SEO, you need to increase your dwell time (time users are spending on your listing) By adding more engaging photos. Customers also need to share more photos of their results / photos of your business. So, upload higher quality photos of your business and your team. Refresh your Yelp listing!
A creative Idea: Entice your customers to take a photo! Have a backsplash with your logo where customers can take a selfie at your business. Here's me saying "Yes to the dress" when I went wedding dress shopping…
Have a sign that says something snazzy like… "Prove you were here…" or "Please share your experience"…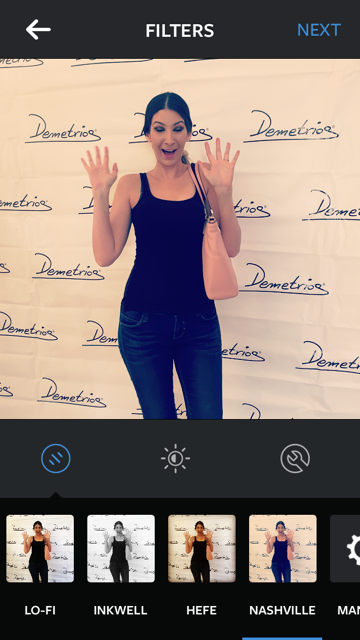 3. Customers need to Check-In
Nothing proves to Yelp more that actual humans visit your business than a "check-in"
4. Offering a Promotion or Check-in coupon helps!
If your business is actively offering coupons, it may help boost your presence on Yelp listings. It's another way Yelp sees you're an active business. Even if it's a tiny discount, it's something to entice a use to drum up business!
I hope my How to Rank Higher on Yelp tutorial helps your business as much as my client's.
Please let me know in the comments section down below or if you have an awesome Yelp page rank tip you'd like to share.
Thanks for reading,
Jen Ruhman
Would you like to hire me to optimize your Yelp listing? Contact me today for a quote! Don't forget, I'm an SEO expert in San Diego, CA. I can optimize your website to rank higher in Google.
Related post: 10 Reasons Why You're NOT Getting Google Search Engine Traffic