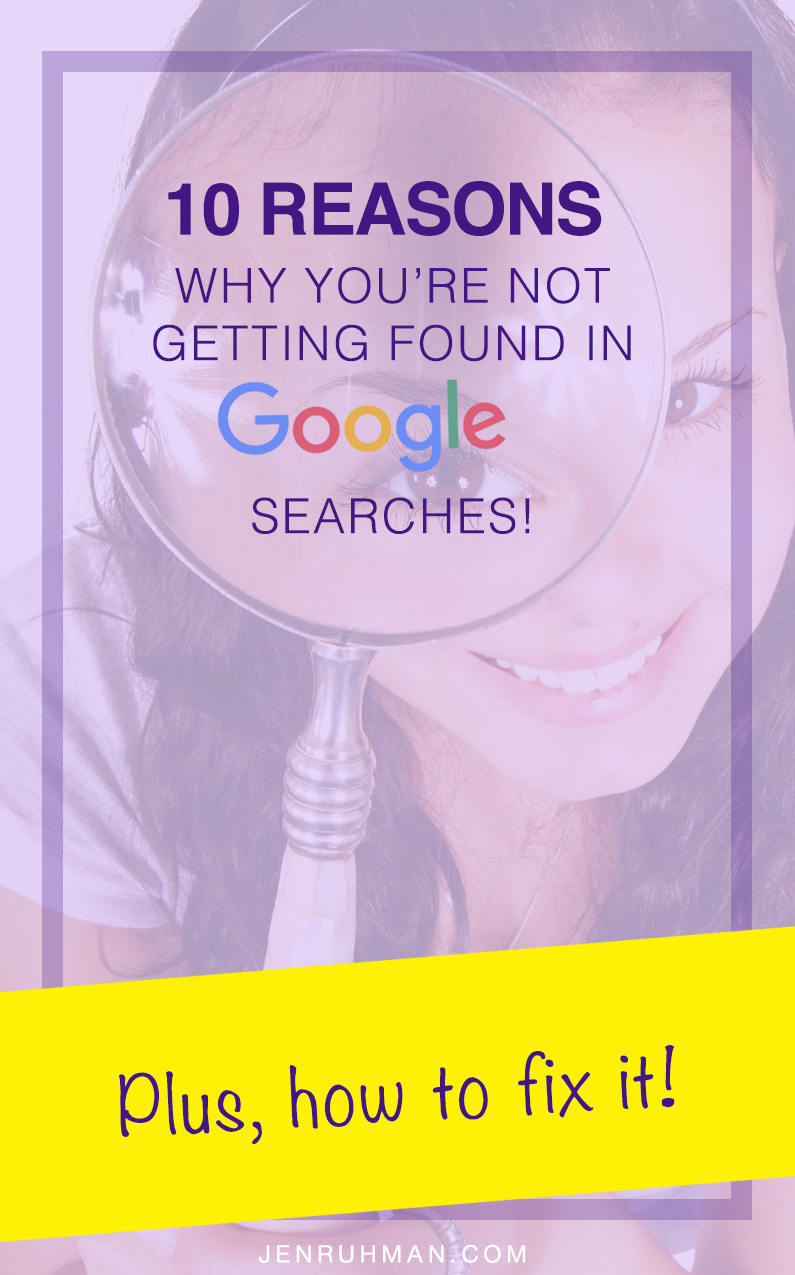 Why You're Not Getting Search Engine Traffic you deserve. You spent a lot of time carefully writing your latest blog post and it's not generating any
website traffic. Worst of all, it's not showing up in Google search results. Why?
Don't worry, it happens when you're new at blogging. I know your frustration. Yes, I have spent hours writing the perfect blog post and included stellar photography and blogged my little heart out.
I hit publish and hoped to gain a ton of new traffic, but to my surprise I myself couldn't even find my new blog post typing in my desired keywords.
What's up Google? Why don't you like my brand new blog post? It took me a while to figure it out and now I have my quick fixes why you're not getting search engine traffic. So, I'm sharing my personal checklist why you're not getting search engine traffic or simply not being indexed by Google.
Here's 10 Reasons Why You're Not Getting Search Engine Traffic and How to Fix your Blog Post Fast
#1. Your blog post isn't indexed by Google
The fix: You need to manually submit your blog post URL to Google and your sitemaps
If Google's bots haven't discovered your new blog post, you're not going to show up in Google's search results. It can take a while but there's a way to speed up the indexing process and cut in front of the line. Once Google receives your page and its bots examine the content, Google will decide where your page deserves to rank in Google SERPS (search engine Results Page) Once you're indexed, your blog will start to receive search engine traffic.
Submit your new blog post URL into Google Webmaster Tools 
Submit your Sitemap to Google in Google's search console
#2 You're Not Using Longtail Keywords
The fix: Be more specific with your keywords longer is better
Instead of "Laptop repair San Diego."
Try "Dell Laptop repair San Diego"
It's true, you'll receive more website traffic from long tail keywords. Have a computer repair shop in San Diego? Instead of just going after the keywords "Computer Repair San Diego" (which has a ton of competition) Go after a specific laptop you repair, try "Dell Laptop Repair San Diego"  It's working for my client. Hyphenet shows up on the first page for "Dell Laptop Repair San Diego. Wooo hoo! 🙂
#3 You're Not Catering to your Target Market
The fix: Find your target market
You have a niche website and you need to know your audience. What would they want to read about and what other content would spark their interest while they're browsing your blog?
What kind of personality does you brand have? –  Caring? Funny? Serious? Creative?
Demographics – Income level? Gender? Kids? Education? Age? Marital status?
Does your Title and Meta description speak to your target market?
#4 Your headlines are boring and lack SEO
The fix: Try headline generators
Did you know headlines are the single MOST important part of your blog post? Make sure your headline is a long tail keyword, second, make sure it's wrapped in an <H1> tag. Third, it needs to be interesting and irresistible to click. Don't worry, it's actually easy. There's many headline formulas proven to drive traffic to websites. Try my favorite headline generators and bring a touch of interest and psychological triggers to your headlines.
#5 Your Blog Post Are Not Long Enough
The fix: Answer all your audience's questions
Are you writing new blog posts as fast as you can? Slow down there buddy. Keep it about quality and length rather than spitting out a quick blog post for the sake of having new content. You want to carefully craft content that has valuable information and answers all your user's questions. It should also have nice images.
Google prefers a blog post that's 2,000 words in length rather than 200 words length
Longer blog posts are shared more often
#6 You're Not Producing Sharable Blog Posts
The fix: Create a richer user experience and add quality resources
Think of all the types of blog posts you share with friends. It's usually high quality, helpful, controversial or perhaps visually engaging.
Here's some characteristics of sharable content:
Professional Graphics / Visually translates your content
Vertical graphics with the headline are great for Pinterest traffic
Useful information that answers questions
Appealing headlines that spark curiosity or instant gratification
Appeals to you target market
Controversial
Make sure your blog has social media share buttons
Case studies
Free content / ebooks
Related: How often should I update my company's blog?
#7 You're Not Adding Internal Links to your Blog Posts
The fix: Sprinkle related content throughout your post
Internal links help Google learn what your website is all about and rank it accordingly. Users will also appreciate seeing internal links to more in depth content on your blog. Internal links usually flow within the content, making it useful if the blog covers terms you're unfamiliar with.
Make sure your internal links open in the same window
Internal links make your website easier for search engines to crawl
Internal links will improve your CTR (click through rate) beneficial to your Google Adsense revenue
Why You're NOT Getting Traffic from Google
#8 You're Not Using the WordPress Platform

The fix: Hire a website designer to give you a head start
WordPress is a website platform that's optimized for quickly indexing your new blog posts. WordPress will signifigantly help your blog posts rank quickly. There's so many good reasons I build my client's websites on WordPress:
You don't need to know HTML
Log in from any computer
Plug-ins for enhanced functions
Easy to use
Many SEO benefits
Many themes to choose from
Easy to make responsive
#9 Your Website is Too Slow
The fix: Utilize plug-ins and watch image file size
Google won't rank your website on the first page especially if your website takes longer than five seconds to load. Users will get frustrated and click the back button to previous search results. You need to optimize your WordPress website and perform regular maintenance.
Optimize your images keeping the file size low but quality high as possible
Place your long tail keywords on your image ALT tags and Title for image search traffic
#10 Your website looks Spammy
The fix: Remove low quality links and remove excess keywords
You're doing things that make your website look low quality and spammy. I recommend the WordPress plug-in Yoast SEO. It will help keep your blog post within Google's guidelines. It will also make sure your keyword density is not in excess. You may also have thousands of spammy backlinks. Don't do the following:
Don't keyword stuff
Don't link to tons of affiliate links
Don't link to lots of low quality links
Use Google's disavow tool to remove spammy back links
#11 You don't have quality backlinks
That's right. Backlinks are like the bread and butter to your SEO. Some great ways to gain quality backlinks – Do this!:
Build quality, helpful content
Have sharable images / infographics
Guest post
Build a useful tool
Hey bloggers, thanks for reading 10 Reasons Why You're Not Getting Search Engine Traffic. If this blog post helped you, please share this post.