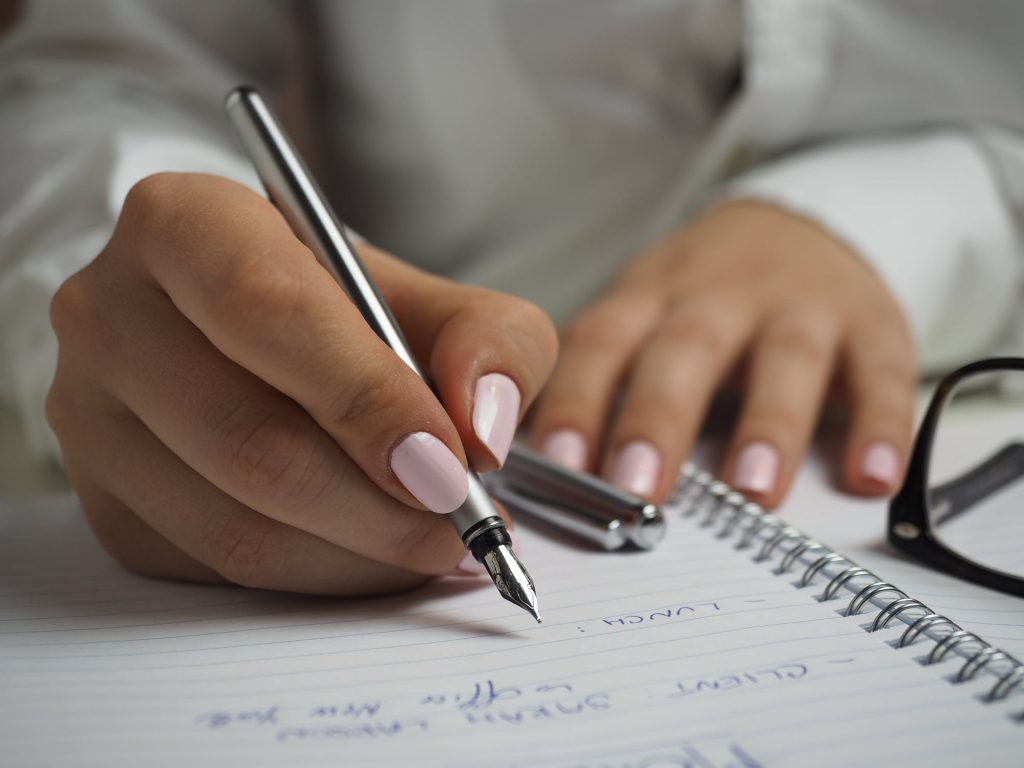 Hello new bloggers. I just created this easy SEO blog post checklist for beginners.
By following this SEO checklist, you're already taking the right first step before writing your first blog post.
Please bookmark this page each time you create a new blog post until you've mastered these SEO blog post tips.
It's true. Doing a little SEO research is like creating a blueprint, giving your blog post's SEO a solid foundation for success.
Many bloggers will just write a lengthy blog post and hope it ranks.
Related: How Often Should I Blog for SEO Results?
They might look into doing SEO after their post is finished, but I know it's best to blog with a checklist as you go!
There's some super long SEO checklists that can be overwhelming! This checklist is perfect for beginners because I made it simple and to the point.
Follow My SEO Blog Post Checklist for Beginners:
Research Your Keywords for Each Blog Post
Whether you call them your keywords or keyphrase, you want to target high volume / low competition keywords.
I recommend you use a free tool: Ubersuggest
If you have a new site with low domain authority, you will want to go after low competition keywords. The low competition keywords may have a lower monthly search volume, but if you're a newbie website this will be what you're most likely to rank for. This is something I have to stress to all new bloggers. If you have a new website without authority, you will not be able to compete with big-name retailers.
On the other hand, you don't want to go after keywords that are not even being searched for!
Heck, it makes me mad when SEO agencies show a client a list of low volume keywords they rank #1 for.
Yes, you rank #1 for keywords nobody is using. You don't want to waste time and good money on those SEO efforts! Feel free to reach out to me for a keyword consultation. I'm great at finding keywords that will help you rank!
Related: How to Build a SUCCESSFUL Blog
Place Your Keywords in these Specific Areas
Whatever you do – don't keyword stuff! Simply write your posts naturally! Place your keywords 3 times max in your article.
In addition, place the keywords in the "backend" of the post. This can easily be done by installing the SEO Yoast plug-in!
To make sure Google understands the main focus of your blog post, you need to place those keywords in these specific areas:
Your blog post title aka <H1> tags
In your URL formatted "yourwebsite.com/these-are-your-keywords"
Meta Description
Mention your keyword once naturally in the first sentence
Image alt tag
Image filename
Place synonyms of your keyphrase in a subheading
Related: SEO Friendly Link Directories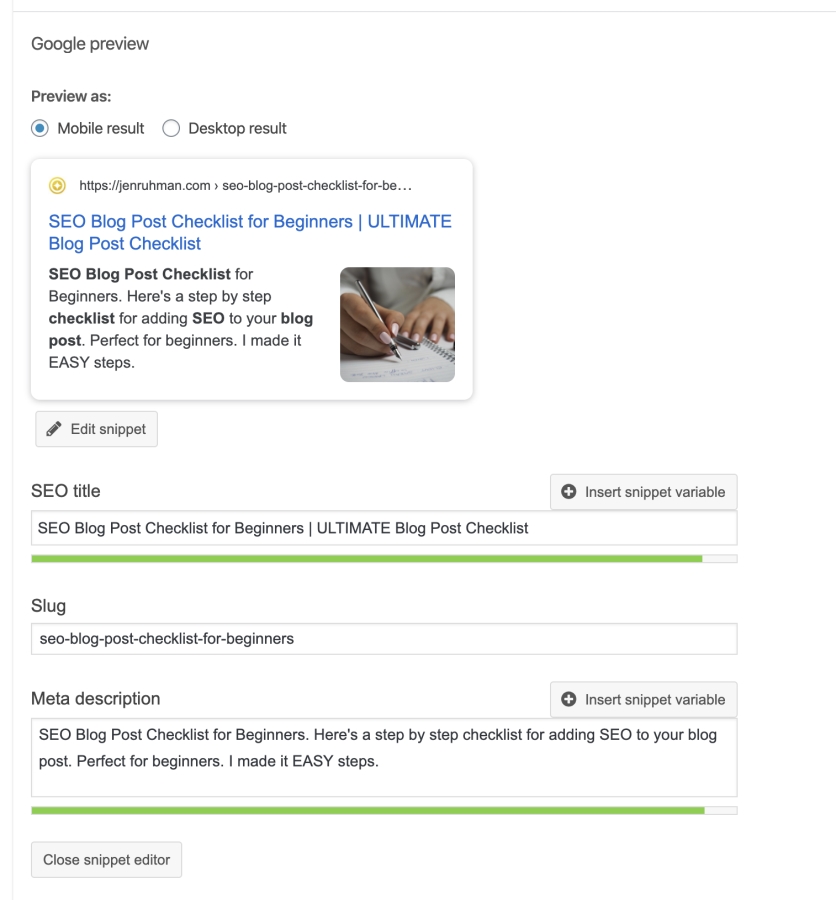 Related: Get Easy DoFollow Backlinks with Your Infographic
Format Your Blog Post
Make sure you use sub-headlines to break up your content. This helps organize each section so people can skim your site easily. It also helps Google understand how in-depth you wrote your content.
Use bulleted lists or numbered lists. Your content will be enriched and may appear In featured snippets.
Add helpful images. Try an infographic or an image that communicates a subheading.
Make sure the quality is 100% and make sure your post is at least 800 words
Add some internal links to other related posts
Keep your blog paragraphs short – 3 sentences max
Make sure your post is responsive for mobile use
Add a YouTube Video if necessary to explain the topic
Related: How To Make a Website Load FAST
Optimize for Speed
Make sure your image file size is small – use Free Image Optimizer to compress your images and help make your page load faster!
I think Yoast should add page speed to the test because usability is a Huge ranking factor!
Place Your New Blog Post in Your Old Blog Posts as a "Related Post"
You can leverage the traffic you already receive and improve your CTR – click through rate.
Related Post: How to Quickly Change your Meta Titles and Descriptions
Experiment with Your Blog Post's Title
Your blog post's title needs to be enticing!
Think of a description that triggers the user to click on.
Alright, did you follow along in this SEO checklist for beginners?
This guide should help newbs add some basic SEO to their blog post without getting too technical.
When you're ready to get more advanced, be sure to check out my 5 Tips for Boosting Your Blog's SEO.
Or if you're ready to take your Youtube channel to the next level, read my advanced Youtube SEO tips.
Are you a business owner? I also have a more advanced SEO checklist for you. Take a look at this related post:
Related: SEO Facts You're Overlooking as a Business Owner
Whether you want to accomplish these SEO tips yourself or hire a professional,
I'm an SEO Guru in San Diego ready to help improve your SEO.