Yoast SEO Tools Bulk Editor is the best way how to change titles and descriptions FAST!
This is included in the free version of Yoast. Yay!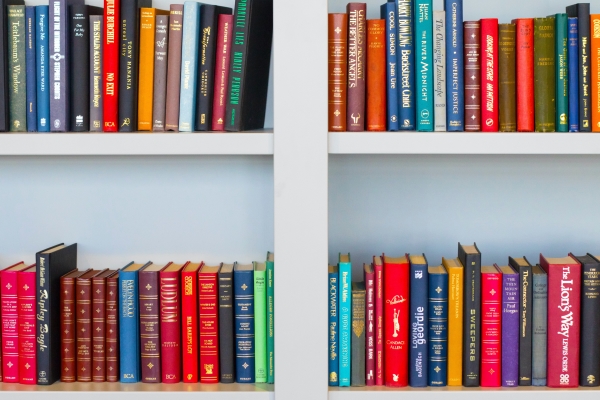 Also known as "META TAGS", every SEO expert in the world knows how to add META tags but most don't know how to change them in bulk.
Yoast is by far the best way to change META tags in bulk.
SEO audits always discover META errors…
They will also warn you about "missing META tags" or "duplicate META tags"…
Heck, sometimes you just need to refresh your titles and descriptions to something more enticing aka clickbait.
Instead of going into each and every blog post and page to fix the problem… (spending hours) There's a faster way to make edits.
Why Would I want to update my meta titles and descriptions?
It's a great element to test. For example, if you're not receiving many clicks on your blog post, you may want to experiment by making the title and description more enticing. You could add some sales copy that triggers your target market. Second, you might want to update it if you included a previous year in the title. Time to update the year to make it look current and update your content.
So How do I quickly change my Meta Titles and Descriptions?
Allow me to introduce you to a free solution. If you have the famous free YOAST SEO plugin, you already have this META tag tool. However, most people have not discovered this feature when using the plug-in. It's the quickest way to add/update your meta titles and descriptions all listed accordingly.
Related Post: SEO Checklist for Beginners
Where's the YOAST Bulk Editor?
Go to your WordPress left side navigation panel > SEO > Tools > Bulk editor
Bulk editor
This tool allows you to quickly change titles and descriptions of your posts and pages without having to go into the editor for each page.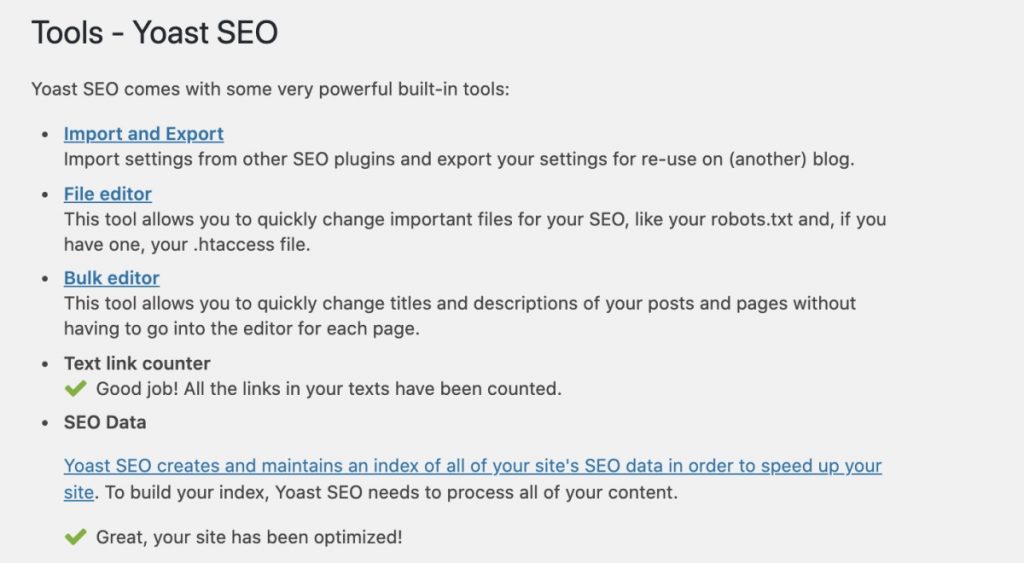 Here, you'll discover the missing titles and descriptions. Ta-da!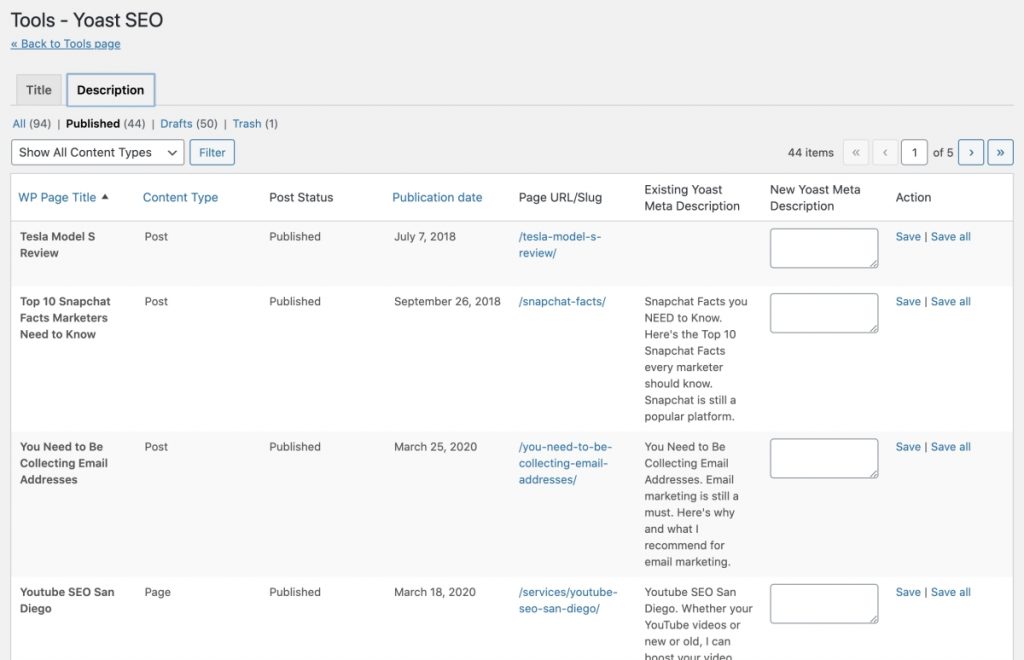 Related Post: 5 EASY Tips for Website SEO
Here's where you add or edit a new description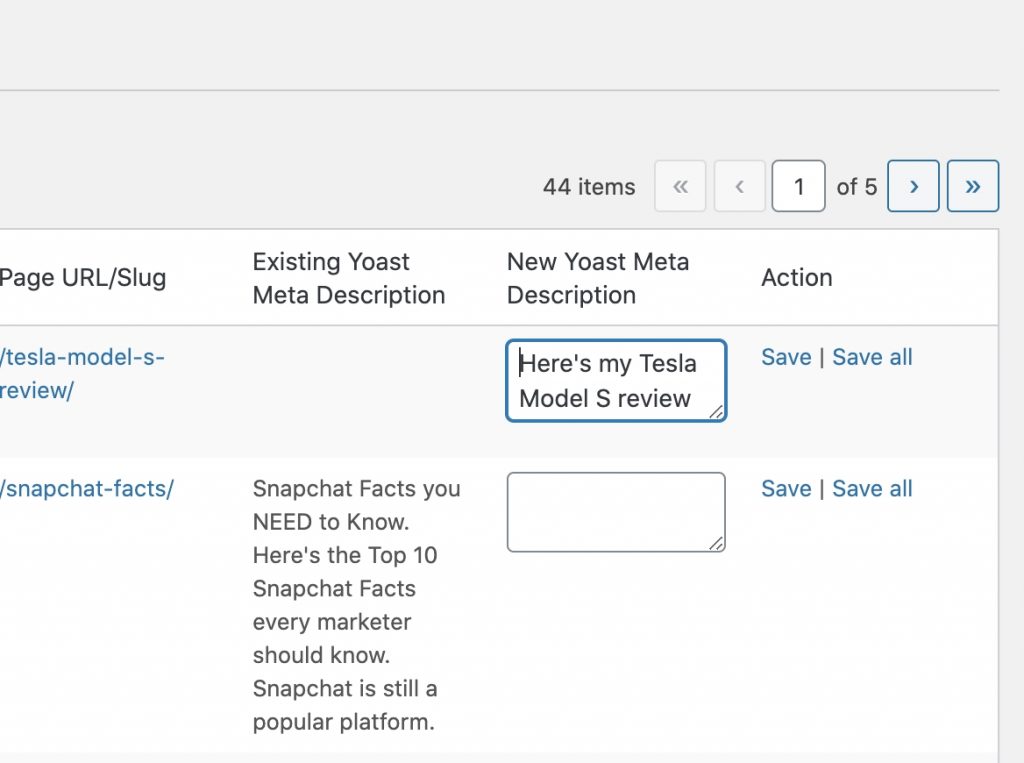 Hit Save all, and you're done!
Yes, you could open up each page or blog post and edit the meta tags one by one. You could scroll down to the Yoast plugin and make the edits there.
I will say one thing I noticed about Yoast's bulk editor, sometime it does not save all the new titles or descriptions you just made when you hit "save" or "save all"
Related Post: Directory Backlinks to List Your Business
Don't want to use Yoast's Bulk Editor?
Here's how you can manually go into Yoast and change each meta title and description. It may take a little longer to do but, you'll be able to make sure your title and description is the perfect length. Second, you can make sure you're adding your keywords into the meta title and descriptions. Simply click on the preview to make it become editable down below.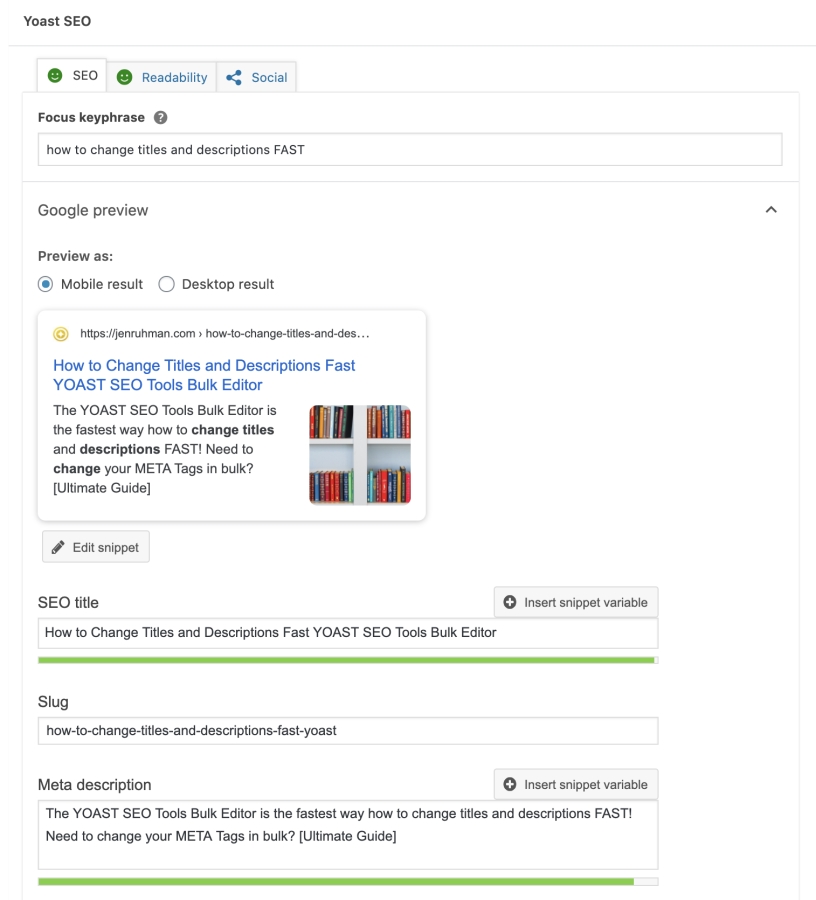 Related Post: Blog Post Promotion Checklist
That's all, I hope you found this post helpful.
Jen