Internal links for SEO benefits are real? You can bet your bottom dollar!
The MAJORITY of business blogs I look at – 50% are not LEVERAGING Internal Links!
That's right – let's dive into adding internal links throughout your site, the benefits, and how to go about adding internal links the right way!
Hello everyone! Jen Ruhman here reminding you to get your internal link strategy solid and flu shot this year! Pssst… OK make that a COVID shot instead.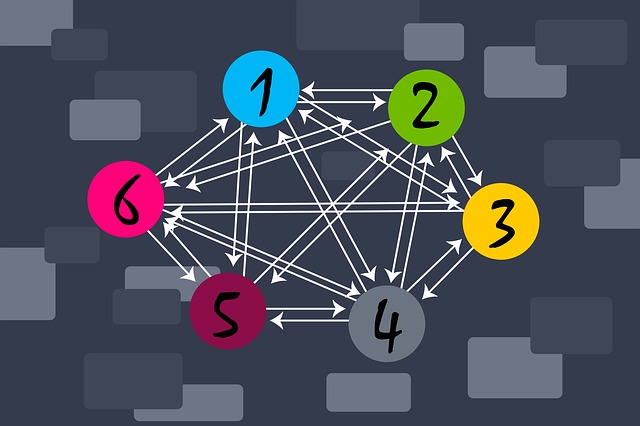 Here's a big fat example of internal links in your face now: 😳
(notice the purple hyperlinks in the text below – guys and gals -those are internal links.)
Internal links are not being used enough in my opinion. In fact, I recommend this SEO strategy in my blog post promotion checklist. BTW I just made an internal link there. You may also remember I mentioned internal links in my 5 Tips to improve your website's SEO. BAM! I added another internal link there too. OMG those internal links up above are beautiful, I'm so proud.
Internal links are a two-way street. I will add internal links to this very page you're reading now and internal links to other pages from THIS page.
Internal links on your website may feel like high fives from yourself BUT Google really thinks they're cool!

-Jen Ruhman
👋 I see Shopify store lacking internal links. Check out my Shopify SEO tips here.


Internal Links – You NEED them on your website now.

What exactly are internal links?
Internal links are the links you create to other pages on your website.
For example, you may have a blog post about healthy brands of dog food. And you might have a blog post about recipes to make your own dog food at home. You can include a link to the recipes page in your blog post about brands of dog food. Heck, it makes sense because it's helpful and may be interesting to the user's audience.
Internal links are simple – Don't overthink them!
Internal links vs. external links
Remember, internal links are great but not as stellar as external links. Sure you can score free external links from business directories or even popular infographic directories, but it's even better to get a hefty backlink from websites that rank higher than yours!
You have 100% control of the anchor text / you never know what webmasters will use to link to your site
Internal links are 100% easier to obtain / External links from other sites are usually merit of earned honor
External links from a high domain authority benefit your website more than internal links.
Simply, add a hyperlink to related content while you're writing content. (See examples above)
I'm simply recommending you place about related 3-5 internal links max (my opinion) on each blog post.
Why Do I recommend 3-5 internal links per post?
Well for starters, seeing a TON of internal links can look spammy. Second, if there's just a few per page, they stand out as important.
These links should flow naturally in your text and lead to other helpful content on your site.
You need to sprinkle internal links onto every blog page, especially the blog posts that are receiving traffic or at least ranking high in google.
Also, Yoast's SEO plugin adds internal links as an SEO ranking signal on their checklist.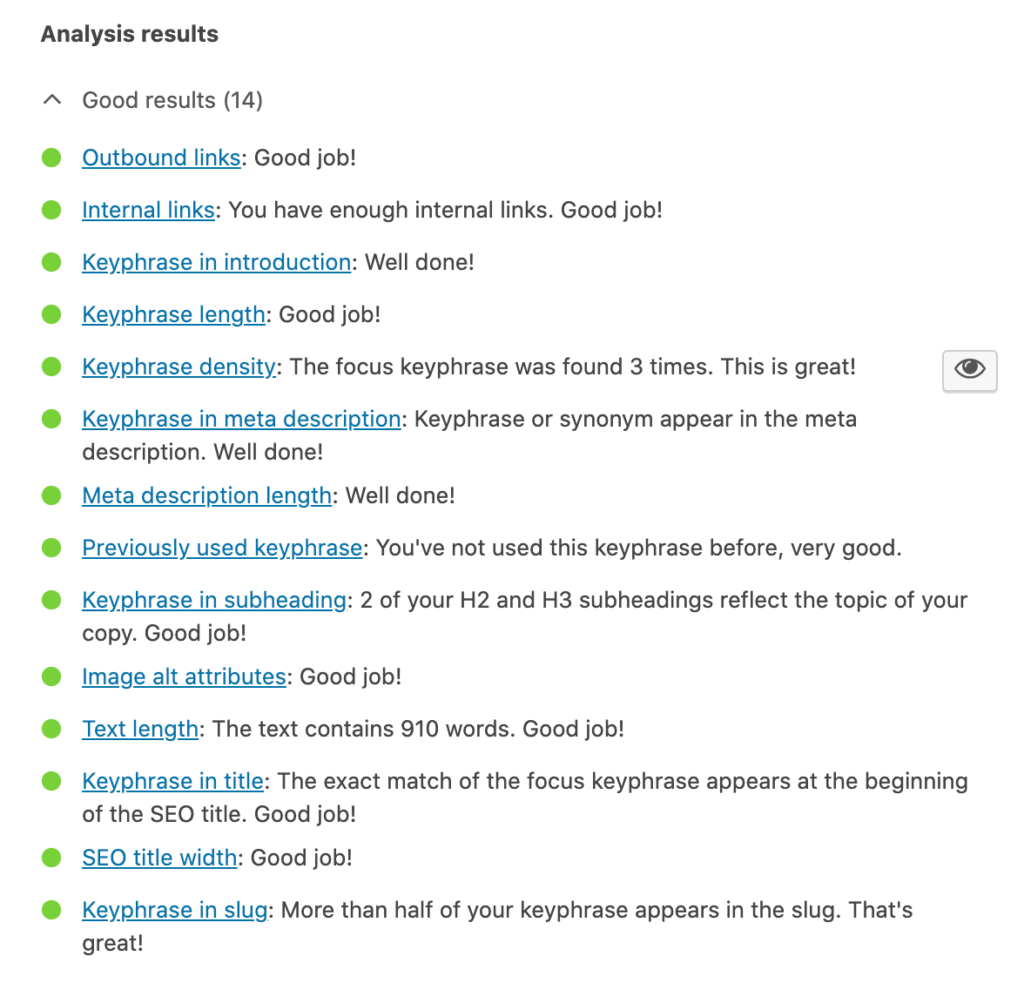 How your website's SEO benefits from internal links:

Be sure to leverage your most popular blog post that already receive a lot of traffic. Simply add internal links on your winning pages to help boost the page ranks of less popular posts.
They "POWER-UP" the pages you want to rank HIGHER in Google
Internal links boost CTR (click-through rate)
They tell google these links are related content and have authority.
Pages that have a high number of internal links pointing to them are seen as important pages on your websites.
Doesn't this sound amazing?

With internal links, you can optimize your anchor text to your preferred keywords.

Let me explain:

Let's say you have a website about credit repair services:
Your blog will have posts such as "How to Build Business Credit the Right Way"
These blog posts about "credit" will gain you the authority in the subject of "credit"
the blog posts will have an internal link pointing to your "credit repair services" page
You gain a higher CTR – click-through rate
And your blog posts will have an internal link to your home page about "credit repair consultants in Atlanta
How I implement internal links:
I like to take a notepad and make a list of the related blog posts by copy and pasting URLS.(pictured below)
I open up all the blog posts and add the new internal link I want to integrate.
That's it, nothing too difficult!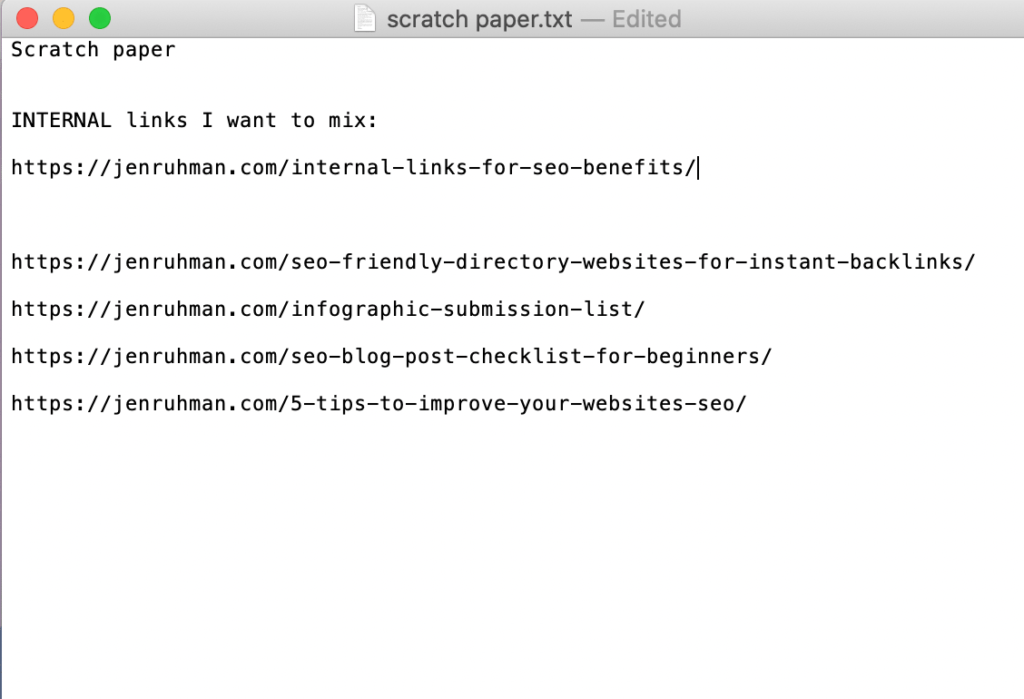 OK, and that's it for internal links for SEO benefits.
I hope you start implementing this tip. Just as powerful external links help you rank higher in google, internal links from your other high authoritative blog posts (getting traffic) can "power-up" the domain authority of these pages you send traffic to easily with internal links.
Just as easily obtainable backlinks from infographic submission sites and directories are good external links, internal links are even easier.
BTW. If you have too many blog posts that have not received any traffic in the past 6 months – either rewrite them and make them higher quality or remove them and 301 direct those pages to similar pages.
Want to pick my brain and talk SEO?
contact me … I don't bite
Jen Ruhman