Updated August 15, 2021
How to Get Your Business Started on Instagram: If you're a business getting started on instagram, this is a quick guide how to get your business started on instagram + creative marketing ideas. (Enjoy the photos I took) With over 100 million instagram users, (source Mashable) it's well worth your time.
Maybe you just registered your business name under a new instagram account and you're not sure how to get started. There's so many benefits using instagram for you business and I'm going to show you creative ideas how to start posting great visual content on instagram.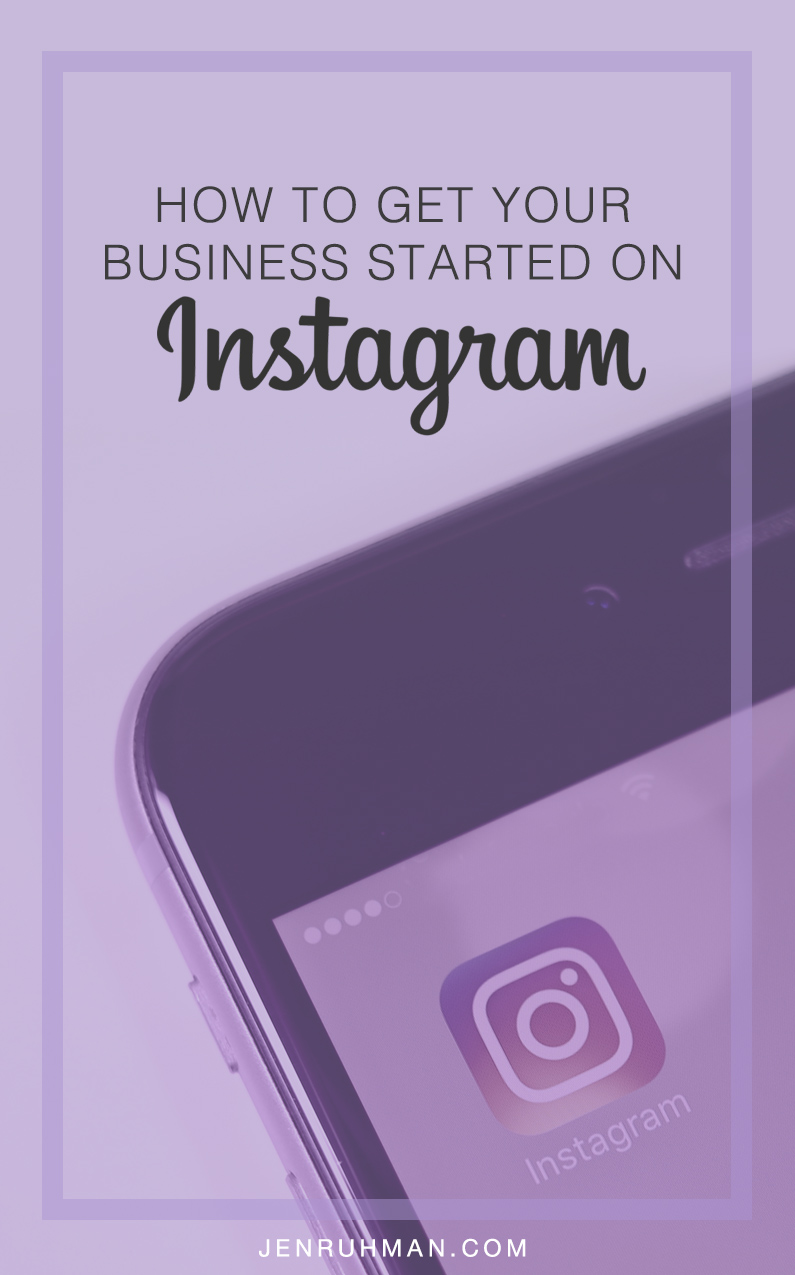 How to Get Your Business Started on Instagram
Set up Your Instagram Account
Sign up for a free account on instagram
(if you haven't already) – Be sure to choose a username that reflects your brand ,perhaps the exact same username as your twitter account and Facebook fan page. This way your social media will be seamlessly blended and easy for people to find.
Add your profile photo or logo.
Use a clear picture of your face prefertably. Editing the becaground to your brand color is also ideal. It also makes you stand out! In
Here's my NEW 🔥instagram Account for this website JenRuhman I used my targeted keywords instead! @seo.expert.sd
Notice my bio has these elements:
Name | what I do in 5 words or less (SEO Expert in San Diego
My target client (website owners)
Benefit #1
Benefit #2
Action I want you to take. (Hire me)
(for the link I chose my business website that's optimized for mobile) Make sure the page you're sending your visitor is a mobile friendly page!
I also used emojis that reflect what I do!
(Copy me! This is a great profile bio to start with!)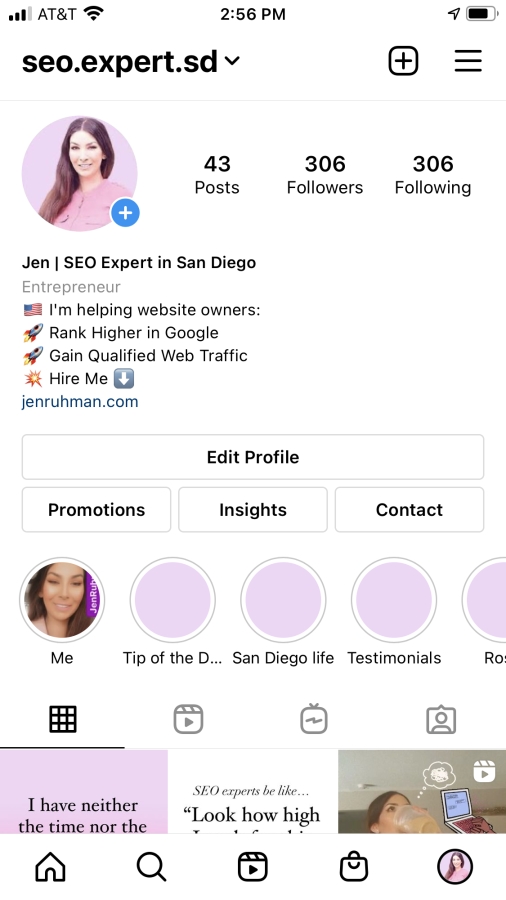 Next, your profile feed should be visually pleasing (it looks more professional)
You can use many styles such as "checkerboard" or this column style I'm using. It's fun to scroll my feed to see the gradient transition: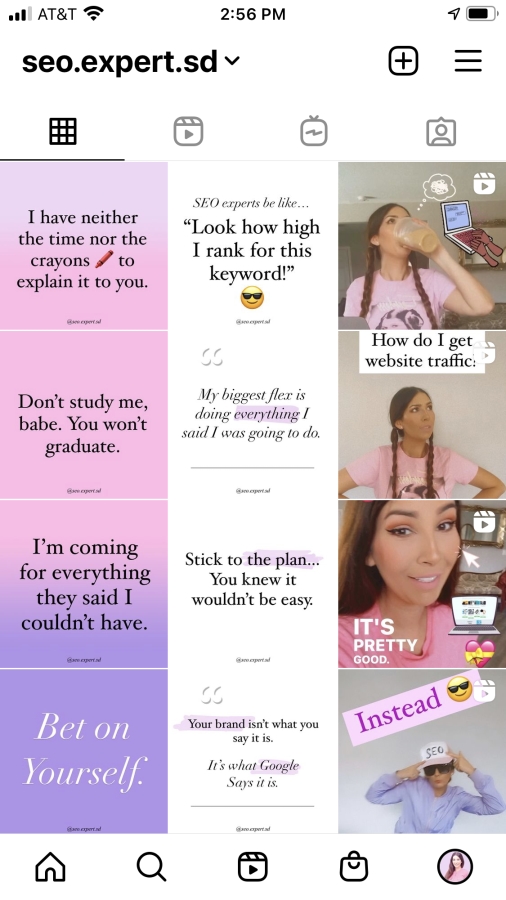 Tips for Instagram colors
Use a consistent palette. You want to stand out. When you post, your followers should identify your brand's flavor / style.
REELS:
Since Instagram announced they're becoming more of a video platform, I make sure to post videos more frequently. It's literally every third type of content I post now. Reels are the recommended thing to post!
Connect your accounts
Connect your social media accounts to instagram.
This will push all your instagram updates to your other social media page as soon as you publish to instagram. (You can connect to Facebook, Twitter, Tumblr)
Example below: I added my location and connected my accounts to update on Facebook and Twitter. I also used the relevant hashtages "#wedding and #weddingdress. I also tagged the company using their hashtag #Demetrios. See how I added an emoji of a brunette bride? Fun right?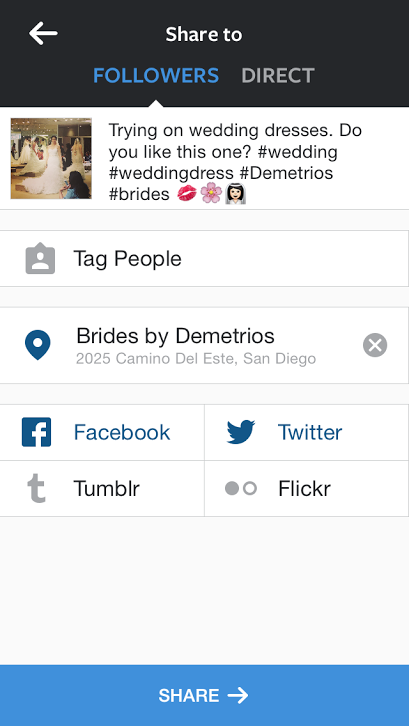 Notice, Brides by Demetrios is a national brand, with many store locations in the United States. If you'd like to focus on getting your local business started on instagram, I also wrote a more localized guide for instagram.

RELATED POST Benefits of using instagram for Business
What to start posting on Instagram
Remember, you don't want to over promote your business by just showing product shots. Get "behind the scenes" Mix it up. Ask, "What does my target market want to see?" Try using the 80/20 rule – 20% of your posts to promote your services/brand and 80% that really visually engages your audience.
Video/photos of an office tour
The customer experience
New product prototypes
Products coming soon
Employees working with clients
Products in action
Promote your customer's photos
Use beautiful photos to promote blog posts
Engage your brand with trending hashtags
Hop on a trending video idea with music or voiceover!
YOU! Try to show YOUR personality and what it's like working with YOU!
REMIND your followers what you do! (they forget)
Want ten more super creative instagram ideas?: 10 Creative Ways to Use Instagram for Business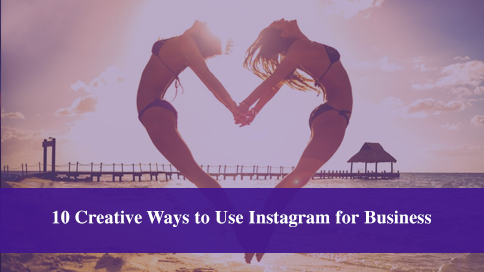 The filter selected below called "Mayfair" gets the most likes. Here I am modeling my wedding dress at Brides by Demetrios, sharing my customer experience. If I was the company Brides by Demetrios, I would promote this photos. (great example) Noticed I used the instagram filter Mayfair.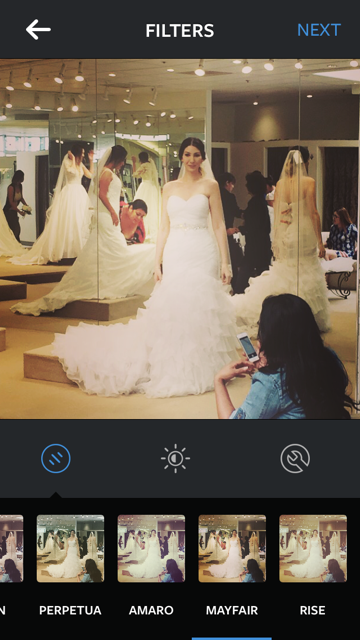 Include related/trending Hashtags and Emojis
Do a little research what hashtags your competitors are using. There's also an amazing companion app for instagram called: Hashtags. You can pick a hashtag category and copy/paste the hottest trending hashtag recommendations into your instagram post. Also be sure to include some related emojis to add some visual interest to the text description and hashtags.
Below: I was at the bridal store Demetrios and they set up a backdrop for customers to share their dress shopping. This is my "I said yes to the dress face." Brides by Demetrios should also promote this pic 😉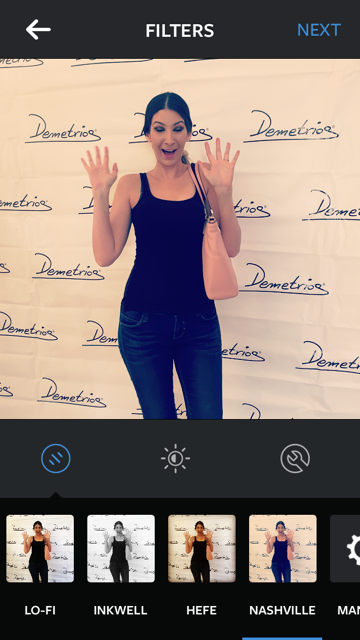 Creative ideas for marketing your business on instagram Have a branded backdrop set up in your business for taking photos
RELATED POST How to Get Local Instagram Followers
Another creative idea for marketing your business on instagram
Showing "the process" "behind the scenes" what a bride can expect during the alterations process. See the pins?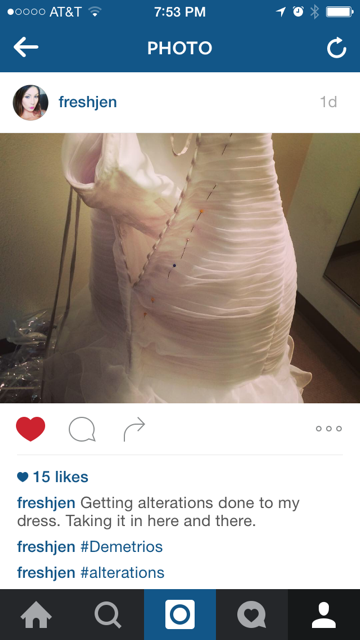 creative ideas for marketing your business on instagram
It would be great to share the customer's experience from start to finish, telling a story in a series of posts. (I'm in my dress getting pins placed for alterations)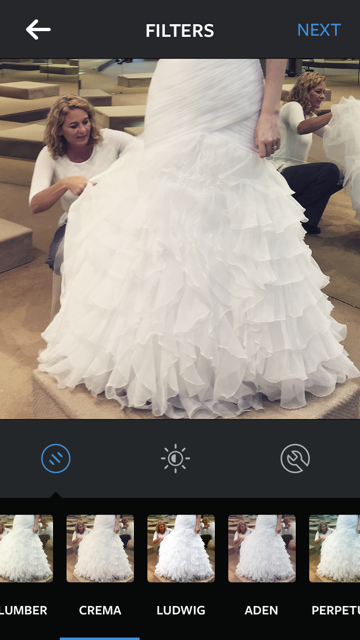 There you have it. I hope you enjoyed my creative ideas for marketing your business on instagram or just How to Get Your Business Started on Instagram.
If you'd like to focus on getting your local business started on Instagram, I also have some great tips for you too. 5 tips how to grow local instagram followers. These tips aren't limited to business websites, be sure to add include these Instagram tips in your Shopify store.
Thank you for reading.
Jen Ruhman