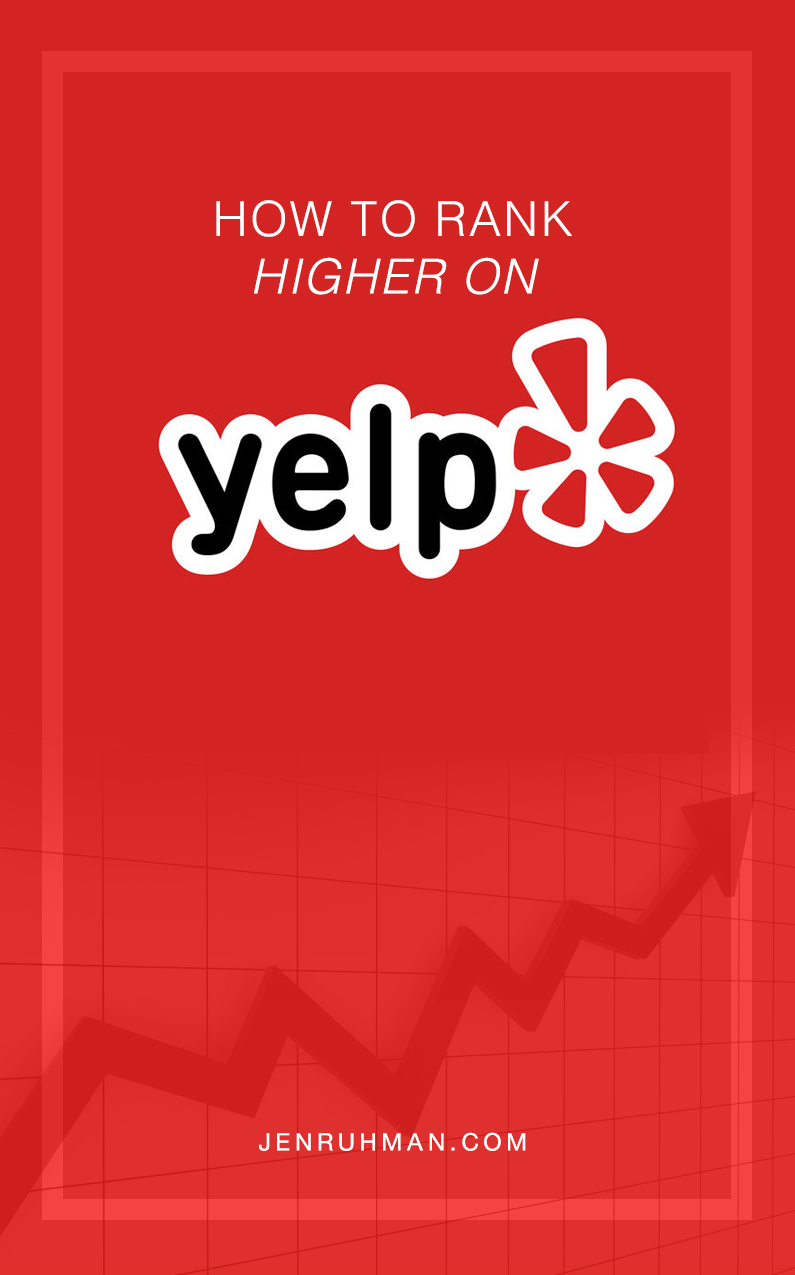 How to rank higher on Yelp! Business owners, you're on Yelp whether you like it or not. You might as well optimize your Yelp business page and leverage the power of Yelp. I'm going to share with you how I organically optimized a client's Yelp business page.
Best of all, I was able to improve the Yelp page rank for free. That's right, without buying Yelp ads or any of the add on features. Woo hoo! Not only did I save my client money. With these quick Yelp optimizations, he's now ranking high organically next to the top paid ads. What?! Yes! And you can too!
Related: How to Rank Higher in Google Maps
Here's my free guide How to Optimize your Yelp Business Page Rank. If you want to have your business ranking higher on yelp for free, keep reading. This will also help maximize your ROI if you're running any Yelp ads. I promise, this will take ten minutes tops! Grab a cup of coffee or tea and let's work through this Yelp optimization together. Yay!
I assume you already claimed your Yelp business listing. So make sure you have that done before doing this tutorial.
How to Rank Higher on Yelp
STEP 1: Log into your Yelp business owner account here: https://biz.yelp.com
(This is not to be confused with your personal Yelp user account.)
STEP 2: Make a list of keywords you want to rank for in Yelp
This is where the MAGIC happens. Ideally, you want to rank for long tail keywords or very specialized services you offer exclusively. For example, my client is a Managed IT service provider in San Diego. There's so much competition for this Keyword so we want to of course still rank for it but also go after similar keywords such as "Onsite managed IT services" and also specific services in that category such as "PCI compliance", "Dell Poweredge", "Proofpoint Essentials", "Managed Firewall", "Office 365". (More info about long tail keywords mentioned as #2 in this post.)
[wp_ad_camp_2]
STEP 3: Write these keywords into your Specialties Section
It's all about the Specialties section. That's where the magic happens for organic yelp page rank. Write a helpful description sprinkling your keywords throughout the paragraph(s). Try to sound like a human and not a robot lol. Do NOT just make a long list of the keywords. That can flag your account. After many tests, I learned that whatever keywords you write into the specialties section is what gets crawled for SEO. Don't bother focusing them in the "History" or "About the Owner" section.
STEP 4: Ask for Yelp Reviews Focused on a Specific Keyword
Your Yelp rank will also significantly improve if your Yelp reviews have the specific keyword mentioned in the review. YES! Yelp reviews also show up in Yelp search results! Keywords will show up in bold to match the keywords in the search bar.
Upon completion of a service for example, "laptop keyboard replacement" it's perfectly OK to ask your customer for a Yelp review for specifically you guessed it… "laptop keyboard repair." How to be slick about it and not look cheesy? You can print a template to hand out to your customers. A slip of paper that basically says "Hey thanks for stopping by, can you do us a favor? Check-into Yelp and write a review about your (fill in the blank) "laptop keyboard repair" It's not just about having Five Star reviews in Yelp, It's about being found in Yelp! Maximize this by having targeted keywords linking into your page just by having them in your Yelp customer reviews. Genius. POW! Whaaaaat?! To sweeten the deal, offer discounts for checking-in to the business and writing a yelp review.
Here's the Optimized Yelp Page Rank Results:
Because we have "PCI Compliance" in the Specialties section, it shows up in the Yelp search results. Pretty impressive huh? If we also gained a review focused on "PCI compliance" that could also show up under the Yelp search results.
Here's an example of improved Yelp page rankings:
My client is now ranking on the first page of Yelp search results for "managed firewall." Currently listed at #4. Now, if we start getting more Yelp reviews with this focused keyword, we could get higher in rank. Once again, this keyword was added into the specialties section of the Yelp business owner page.
Related Content: How to Find Long Tail Keywords for SEO
An example of ranking and dominating very specific keywords
Ranking as the only search result! Another HUGE advantage of adding multiple complex keywords to your Yelp business page. For example, customers call for pricing or support for the software called "Proofpoint Essentials" This is why I added it to the specialties section. And look what happened? My client is the only Managed IT Service provider in town that ranks for "Proofpoint Essentials" Pretty awesome huh?!
I hope my How to Rank Higher on Yelp tutorial helps your business as much as my client's.
Please let me know in the comments section down below or if you have an awesome Yelp page rank tip you'd like to share.
Thanks for reading,
Jen Ruhman
Would you like to hire me to optimize your Yelp listing? Contact me today for a quote! Don't forget, I'm an SEO expert in San Diego, CA. I can optimize your website to rank higher in Google.
Related post: 10 Reasons Why You're NOT Getting Google Search Engine Traffic