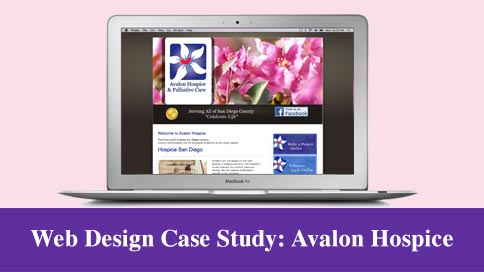 Working with web site clients is a rewarding experience. I get to learn all about their business and strategize ways to improve their website's SEO and usability. Today I'd like to share a case study regarding a well respected hospice in San Diego called Avalon Hospice & Palliative Care.
The primary needs for this website was to create strong "calls to action" for both "referring a patient to hospice care" and for people to "become a hospice volunteer in San Diego."
I added a couple of nice buttons on the side navigation. Purple and blue.
The next important task was to make all the online forms digital. They were previously in .PDFs and the call to action was for the user to fax the forms. This is considered outdated and time consuming for a patient.
This was converted into a nice clean form the user can either refer a patient to hospice care or volunteer as a hospice care taker in San Diego.
Best of all, the form sends the staff a text message alerting them about a new patient referral or volunteer.
This was not a website redesign project. I'm just sharing a couple of web design improvements for a better user experience.
Thanks for reading.
Jen